I'm Mandy Gibbons and I'm so happy to meet you!
I'm a Personal Fitness Trainer and Fat Loss Transformation, Workout & Accountability Coach… And the Founder of Virtual Fitness Trainer.com.
My passion is helping YOU get into the best shape of your life… Creating results based fat loss and lean muscle transformation programs focusing on decreasing body fat, increasing lean muscle and improving your fitness and self-esteem. While also helping inspire and motivate you to live a life you love… In other words the Ultimate YOU.
Here's why I'm super passionate about what I do, this is what I live for, my life's work… I believe when you're in terrific shape, when you're feeling healthier, feeling fitter, feeling confident about yourself and believing in yourself… Your family, those that surround you in your every day life all experience the domino affect that you're experiencing.
"I understand, first-hand the impact that it can have on you and your lifestyle."
I know how overwhelming it can be trying to get into great amazing shape, when you're not sure what to do or how to go about it. And lets face it, life can get pretty darn crazy when you're swamped with your work, family commitments, study… just to name a few (especially when you're so dedicated about your dreams and goals in life).
You know you want to look your best.  And you want to prove to yourself – because this is about you – that you can really do this, often it's the struggling with the "how to" that's the last piece of the puzzle.
I'll be the first to say that I'm a mix of compassionate, a little bit of tough love but always genuine, super caring, helpful, encouraging, funny and honest.
"I want to help you get past what you're currently going through with your obstacles and coach you with what you really need to know to so I can help you achieve the body that you've always desired."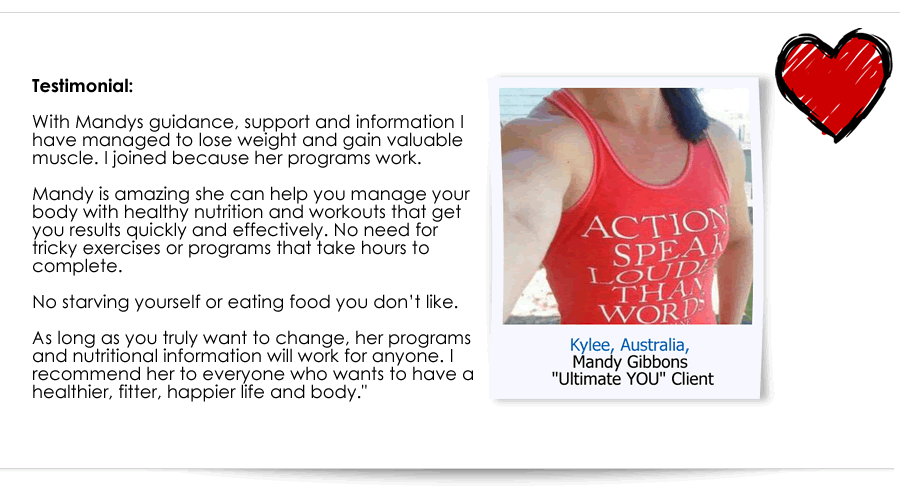 "My commitment is to bring you the very best of my knowledge, my experience, my advice, what I continue to learn through my studies (ongoing education is so key), and to keep it real, fun and honest as I go."
To get started right away, grab your complimentary Kick-Start Your Transformation Video Series, and I'll show you some strategies – including a sample nutrition plan, mindset and motivation lesson with downloadable pdf, and sample workouts that you can implement – all of which you can use to take action and follow for 3 weeks. Because I want to prove to you the impact that just 21 days can make to your body. Yay!
And if you're ready to take things up a level, and say "YES" to truly transforming your body…
Genuinely want to make "real" changes to your body fat, muscle definition, improving your fitness, being comfy in your own skin and sculpting your legs, shoulders, arms and tummy (so you can totally rock that killer outfit or swimsuit you've always wanted to wear) then I'd love to work with YOU…
…To find out how you can work with me as your coach check out the options below:  
I'm so excited to share this journey with you…
Warm regards and hugs..
Mandy xo