"Does the thought of

throwing on a pair of shorts, a sexy dress or swimsuit

excite you or literally
have you churned up with fear?"
Don't Wait Another Moment Sitting On the Sidelines Wondering What It's Like To

Accelerate YOUR Fat Loss & Create That Sexy Lean Feminine Body

You've Always Wanted…
It's Time To Ditch The Minds Games and The Crazy Diets And Get Started Today
1 to 1 Ultimate YOU Coaching With Mandy!

Hey it's Mandy Gibbons here, founder of Virtual Fitness Trainer and MandyGibbons.com, Creator of Ultimate You Coaching and the Ultimate YOU Dream Body Program Online Group PT and Fat Loss Coaching.
I'm so excited to share with you today everything you need to know about my awe-inspiring Ultimate YOU 1 to 1 Coaching program.
…And how it can help you have the body and Ultimate YOU Dream Body fitness lifestyle that you deserve.
But first, it's honesty time…
Are you happy with your current efforts to get into the best shape possible, y'know your dream body?
Are you satisfied with where you're at with your body fat and lean muscle?
Do you look in the mirror and wish that your shoulders, arms, legs and midsection were more defined?
Does the thought of going out for a meal, a pool party, or a special occasion have you making up wild excuses because you're not comfy with your body?…
Nothing fits, you're pissed off with yourself for getting yourself into this situation… And know you're missing out on what life has to offer
Look, if you're finding yourself going around in circles frustrated that you're not getting the results you want, then I've got good news for you…
We can change that – BIG TIME!
Whether you realise this or not…
You are absolutely in charge of your ability to create the awesome body that you dream about. And you are meant to achieve this – and more – in this life, and deep down you know that's the case too.
I know this because I've done it.
And I've helped many women (and men too) over the years get results and experience having a body that they love and are proud of.
Here's why I'm so passionate about what I do…
This is what I live for.
I absolutely believe when you're in terrific shape, when you're feeling healthier, feeling fitter, feeling confident about yourself you, your family, those that surround you in your every day life all experience the domino affect of that.
And you deserve the chance to experience reaching your God given potential.
That's why I created "Ultimate YOU Dream Body 1 to 1 Coaching"
That's my my Ultimate Online 1 to 1 kick ass premium Coaching focusing on fat loss, lean muscle, nutrition and mindset… and helping you truly transform your body.
It's the Ultimate Online Personal Fitness Training experience that's designed to help you achieve your Ultimate Dream Body and to help you break free of the mind games and target right in on what works, knowing each day you're getting closer to your goals.
It's time to put an end to struggling because you're exhausted from trying all the different options out there to boost your metabolism and burn more body fat…
From being fed up with feeling like you've failed
From inconsistent results and putting limits on your training and nutrition efforts (you may not even realize you're doing this).
And it's time, if your self-belief has taken a hammering – and you're starting to feel like you're so close to figuring it out, but just not quite there yet – to make that body that you'd love actually happen!
When your training, nutrition and mindset come together,  And are implemented in a way to maximize your efforts… The more successful your fat loss and lean muscle results become.
I'm going to emphasize the word fat loss here, not weight loss. Let me be clear, with Weight loss you're losing overall weight… including precious muscle. Meaning that muscle definition that you want, goes out the window.
My Ultimate YOU 1 to 1 Coaching is unique in it's approach. This is about taking your body to a whole new level…decreasing bodyfat and ramping up feminine muscle…
Just for a moment close your eyes…
Now imagine having a Personal Fitness Trainer and Fat Loss Coach working closely with you and knowing exactly what to do to get you into the best shape possible.
Imagine experiencing far greater results than what you've experienced in the past and what that will feel like when you've reached that goal?
Imagine how awesome it's going to feel to have a step by step plan to transform your body efficiently and very effectively.
Imagine how it's going to feel to be part of our amazing Ultimate  YOU Dream Body Online PT and Fat Loss Coaching private community who are supportive, inspiring, generous and who share the same goals as you.
Who the Ultimate YOU 1 to 1 Coaching is for…
If you take your dreams and goals seriously to create the Ultimate Version of YOU…
If you're busy with your career, your business, family commitments…
Even if you have limited time, if you're ready to commit to your dream and feel passionately about wanting to feel like the amazing person you truly are…
If you're into having fun, even being a little irreverent, and ready to allow yourself to move forward and overcome the fears that keep holding you back…
If you're ready to commit to making positive changes in your life, being open to this process every step of the way.
If you are sick of magic pill solutions, understand that fads don't work… You want something real where you can get results and implement what you learn for life.
And this is particularly ideal if you prefer to keep your coaching confidential, working with me as Your "behind the scenes" secret fat loss weapon.
If you're ready, excited, want to truly transform your body, are willing and open to be compassionate with yourself, while also getting the accountability and motivation you need… Then I encourage you to apply for my Ultimate YOU Dream Body 1 to 1 Online Personal Fitness Training and Fat Loss Coaching.
What is Ultimate YOU 1 to 1 Coaching…
It's 1 to 1 Online or Face to Face Personal Fitness Training and Fat Loss Coaching that's dedicated to showing you how to turn your current efforts around, and moving forward in a way that's going to help inspire you and motivate you while getting into the best shape of your life.
It's taking 1 to 1 Online Personal Fitness Training and Coaching to level a that you've never experienced before!
I wanted to create something different to other coaching options available. And make it individual to you.
That's based on you, for you and not anyone else.
As your Ultimate YOU Dream Body 1 to 1 Coach, I design each PT / Coaching session and program especially for You.
It's about me listening to YOU and maximizing your training, your workouts, your exercises, your nutrition (along with helping you with meal planning and shopping lists) and your mindset and…
It's about YOU achieving real fat loss results…
About helping you achieve muscle definition, adding sexy curves, improving your fitness, being comfy in your own skin… 
Transforming your mindset and sculpting your legs, shoulders, arms and midsection (abs & lowerback) so you can totally rock that killer dress or swimsuit you've always wanted to wear.
You'll work with me directly.
We'll be speaking together via skype – in Person  online. I'll be holding you accountable.
That's right, we'll be having regular accountability sessions where we'll go over your training and nutrition, mindset and ensure you're on track. And we can tweak things along the way.
I'll be with you every step of the way throughout your Ultimate YOU 1 to 1 Coaching.
If you're worried about how to perform exercises correctly, don't! I have an amazing (clients only) exercise library, complete with video and written instructions – AND if you get stuck with your technique, just let me know and I can guide you through face to face in our 1 to 1 Video skype coaching sessions.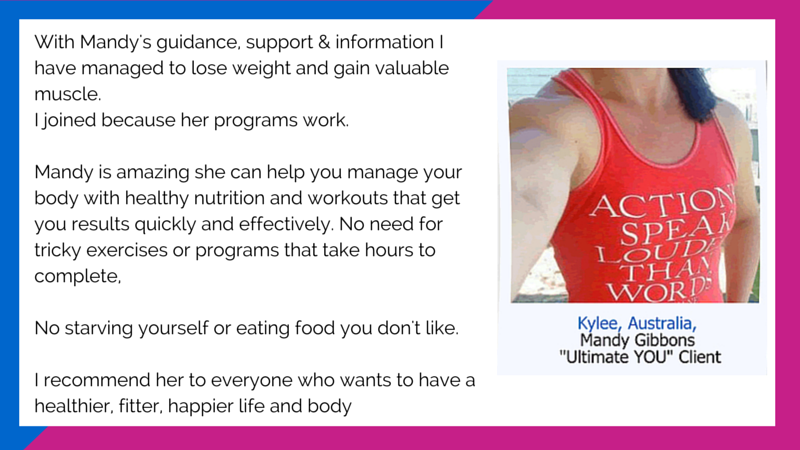 It's the complete and Ultimate Coaching Experience:




Workouts, Training, Accountability, Support and Nutrition
I want you to succeed at Your goals.
If you've ever dreamed about having your own 1 to 1 Online Personal Training and Fat Loss Coach…
If you're ready to take your efforts up to the next level and commit to creating a body that you're proud of, that represents the absolutely awesome person you are inside…
Click on one of the Coaching options below to get started.
I'll be helping you reach those goals of looking toned, sexy, feeling like "sure I can throw on a tank top and pair of shorts or fitted dress and absolutely rock it"
If you've got a special occasion coming up, or photo shoot for your business branding, your wedding… Or just because you know you deserve to finally have this dream fulfilled, then I encourage you to register today.
If you're ready to take the next step, if you know that it's your time now to get into the best shape of your life – both for the short-term and long term…
Sorry, all the spots have been taken for this package at the moment. xo
It's time to take action for that amazing rockin body to match the awesome person that you are!
Lots of hugs and I look forward to working with you…
1 to 1 Ultimate YOU Coaching FAQ's and Refund Policy
Personal Fitness Training Release of Liability